10G xPON Hardened ONT/ONU
Meet everyone's bandwidth demands with Hitron's NOVA2200 10G xPON ONT/ONU. Get compatibility and flexible 10G connectivity options with Hitron's NOVA2200, allowing you to seamlessly integrate with your existing provisioning, billing, and management systems.
Supports 10G XGS PON and EPON in one unit
Symmetrical 10G for premium tier services
Only sold through Service Providers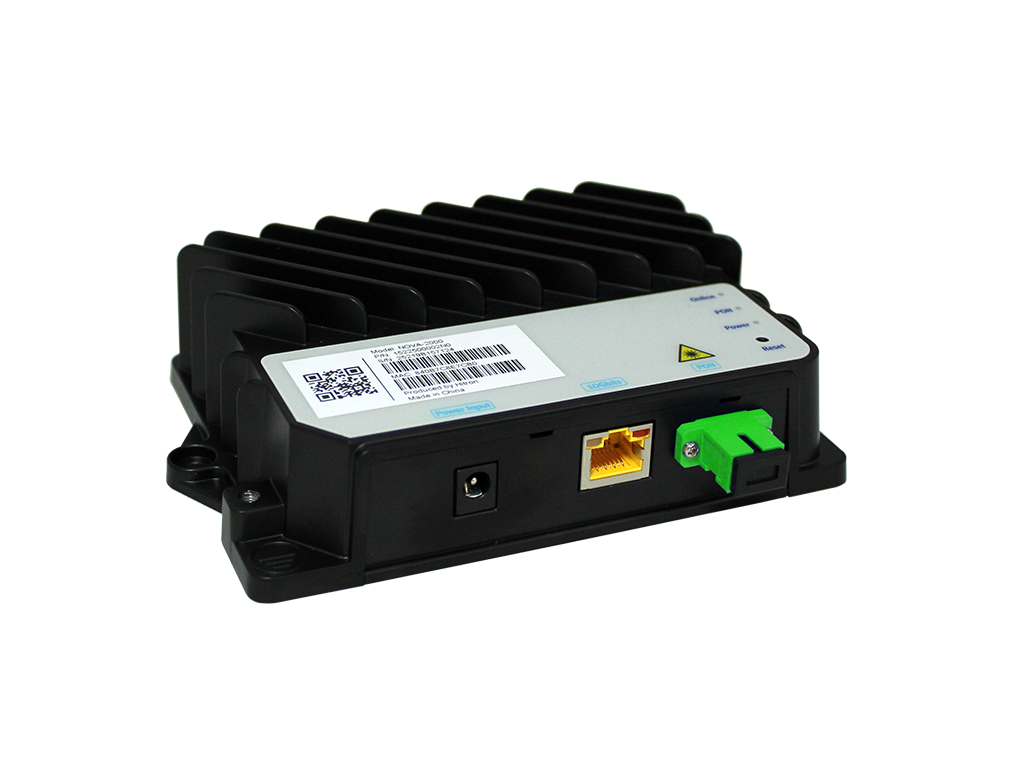 Answer the Need for Speed with 10G xPON
Next generation 10G upstream and downstream speeds future-proof your service offerings for business and residential customers. You can level up to premium high ARPU service tiers, while answering everyone's bandwidth needs – including HD/UHD video-on-demand, high-resolution VR, UHD gaming, premium telecommuting and more.
Flexible Optics:  10G-EPON, XG-PON, XGS-PON
The NOVA2200 supports ITU and IEEE based PON solutions, ensuring smooth integration into your existing infrastructure. Whether you're using 10G-EPON, XG-PON, or XGS-PON, this versatile ONT/ONU can handle it all, making your network future-ready and adaptable to evolving technologies..
DOCSIS DPoE 2.0 Compatibility
The NOVA2200 supports DOCSIS DPoE 2.0, enabling seamless integration with your current provisioning, billing, and management systems. With the NOVA2200, you eliminate the need for expensive system overhauls, ensuring a smooth deployment process, reducing downtime and operational costs.
Extensive Remote Control and OAM Support
With the NOVA2200, you have full control at your fingertips. Its extensive remote management capabilities, combined with IEEE 802.3ah OAM support, empower you to manage and optimize your network efficiently. This level of control allows for quick troubleshooting to resolve issues proactively and deliver superior services to your customers.
Flexible Indoor or Outdoor Deployment
With a rugged design built to withstand challenging outside elements, the NOVA2200 ensures protection against dust, moisture, and temperature fluctuations. Its hardened case makes it a durable and reliable choice for various deployment scenarios, guaranteeing consistent performance and reliability. The NOVA2200 delivers unbeatable dependability by minimizing maintenance costs and maximizing uptime for your broadband services.
Placement Versatility with PoE Injector (Optional)
Pair the NOVA2200 with Hitron's new PoE Injector/Splitter and complete your install indoor or outdoor*, regardless of proximity to a power source. Use the PoE Injector to power the ONT from a power source that is up to 65 feet / 20meters away. *Note: Outdoor within a weatherproof enclosure.
Fast, Simple Deployment, Monitoring and Management
NOVA2200 is optimized for end user simplicity and self-installation, so your customers will have no trouble installing the ONT themselves. Once connected, the built-in DHCP client does the rest, automatically obtaining the configuration and IP address from the server – no manual configuration required. And 802.3ah OAM support enables remote management.
Key Specifications
IEEE 802.3av 10G-EPON Compliant
ITU-T G.987.2 XG-PON Compliant
ITU-T G.9807.1 XGS-PON Compliant
DOCSIS DPoE 2.0 compliant
One 1/2.5/5/10GBASE-T Ethernet port
Extensive operator control via configuration file and IEEE 802.3ah OAM
PoE 10GBASE-T (Optional)
Hardened case
Other Products to Consider
Compatible with Harmonic's CableOS FTTx Solution Hitron's NOVA-2004 is compatible with Harmonic's CableOS Platform and supports both PON and DOCSIS with a unified software, provisioning and management system – ensuring your infrastructure is ready for 10G. Deliver...
Learn more about Fiber Optics, ONTs and ONUs
This Fiber optic Internet guide will give you high-level information about everything you need to know about Fiber. It should help you understand essential information about how to make your WiFi better and how fiber fits into that. In this article, we will cover:...
PON stands for passive optical network. It is a type of fiber-optic network. A PON Internet (shared fiber) system operates on an unpowered network (passive) meaning that it does not require any active components. Instead, it only uses fiber and passive components like...
Short answer, FiOS users fiber-optic cables to reach your home. A passive optical network (PON) can bridge to a devices on the customer premises within the individual terminating unit using technologies such as Ethernet or coaxial cables. In other words, the devices...
GPON vs EPON…do you know the difference and how they affect your Internet experience?  Let's explore these two technologies.  GPON (Gigabit Passive Optical Networking) and EPON (Ethernet Passive Optical Networking) are variations of PON (Passive Optical Networking)...
Optical fiber networks operate on different passive optical network (PON) standards.  A PON is a network system specific to fiber technology that delivers broadband network access to your home or business. One of many PON standards is GPON. GPON stands for Gigabit...
Fiber optic Internet is a superfast broadband connection. On an optic fiber line, information is transmitted through pulses of infrared light. To better understand fiber optics, there are a handful of terms and abbreviations you will need to know. Before we dive into...
PON stands for Passive Optical Network. A PON system brings optical fiber cabling and signals all or most of the way from an Internet service provider (ISP) to the end user. A PON system is designed to deliver broadband Internet access to your home or office by...
GPON technology is a type of fiber technology. Fiber technology uses fiber cabling to distribute an Internet access for things like Voice (VoIP), video, ultra-bandwidth for HDTV experiences, online gaming and more. The fiber cabling goes from a central Internet...
Fiber optic technology doesn't require a modem to get an Internet connection, it uses an ONT. ONT, or Optical Network Terminal, is a device used within an FTTx link. That could be fiber to the home (FTTH) or fiber to the business (FTTB). The installation process of...
In a fiber-optic network, there are devices that are necessary to complete the fiber to the home (FTTH) link. One of which is the ONT/ONU. ONT stands for Optical Network Terminal. ONU stands for Optical Network Unit. An ONT and an ONU are the same things. ONT and ONU...
The NOVA2200 – Flexible 10G access for business and residential subscribers. Learn more.