10G xPON 8-port ONT/ONU with Voice
The NOVA2208 is a game-changing Fiber ONT/ONU designed to meet the diverse needs of Small and Medium Businesses (SMBs).
Supports XGS PON and EPON in one unit.
8 FXS Ports
Only sold through Service Providers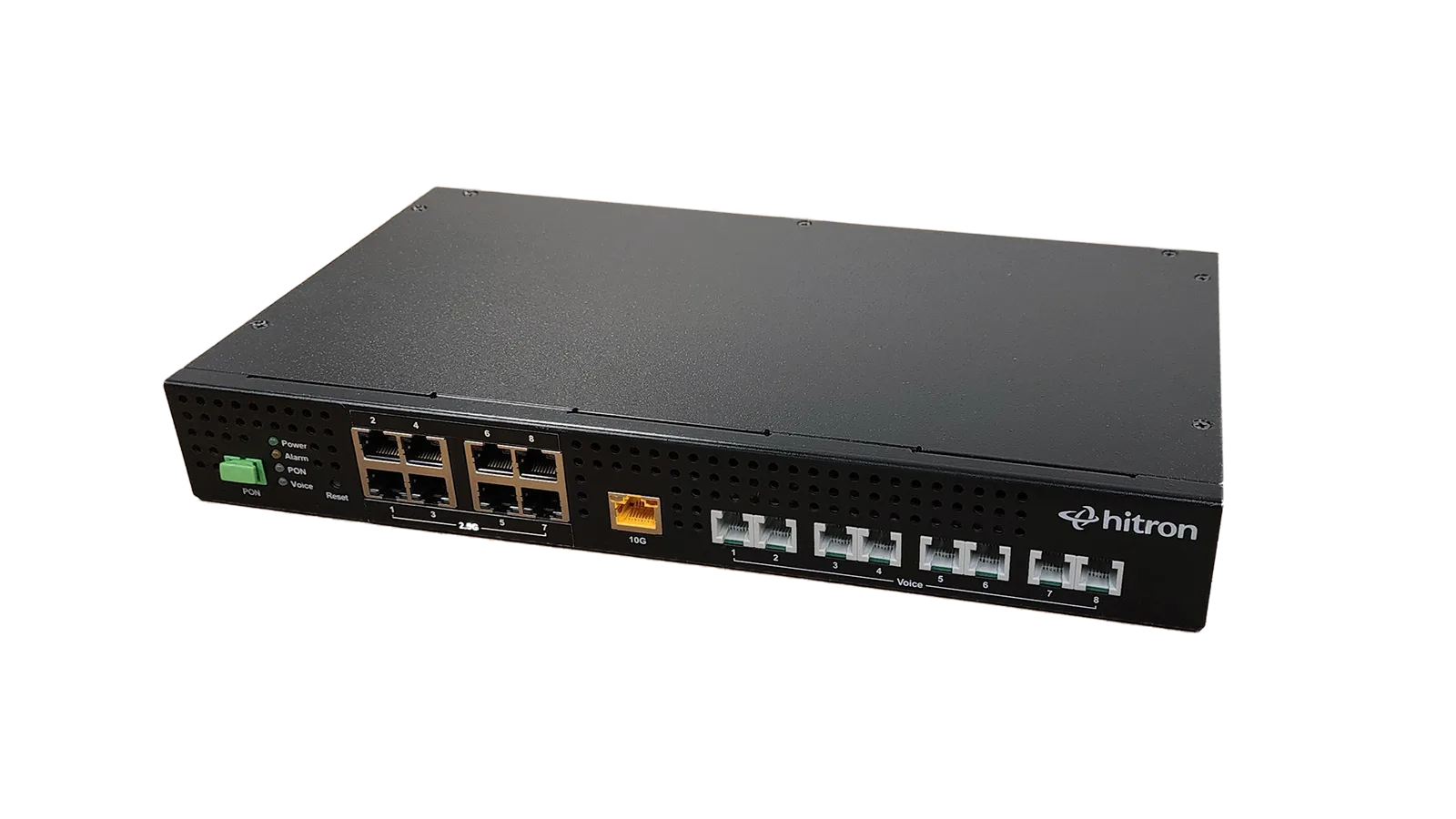 Flexible Fiber Options: 10G-EPON, XG-PON, and XGS-PON
The NOVA2208 sets a new standard by supporting 10G-EPON, XG-PON, and XGS-PON. This multi-PON compatibility empowers carriers to adapt to varying network infrastructures and cater to the escalating bandwidth requirements of SMBs.
8 FXS Ports
Streamline voice services with ease. The NOVA2208 boasts 8 FXS ports, eliminating the need for separate ATA devices. This not only reduces equipment costs but simplifies deployments, enhancing overall efficiency.
DOCSIS Provisioning (DPoE 2.0 Compliant)
The NOVA2208 is fully compliant with DPoE 2.0 standards. Internet Service Providers can seamlessly integrate their existing DOCSIS provisioning systems into Fiber deployments. This integration simplifies provisioning and enhances interoperability within established networks.
Versatile SMB Services
Offer a comprehensive suite of services to SMBs, including static IP, dynamic IP, managed WiFi, and voice, all from a single, compact device. This consolidation minimizes operational complexities, delivering an enhanced customer experience.
Enhanced Cost Efficiency
Reduce capital and operational expenses significantly by deploying the NOVA2208. Its all-in-one design eliminates the need for multiple equipment pieces, streamlining installations and maintenance for ultimate cost savings.
Improved Scalability
As SMBs grow and service demands increase, the NOVA2208 scales effortlessly to accommodate additional customers and services. Fiber Service Providers can count on long-term flexibility and expansion capabilities.
Multi-Tenant Provisioning Capability*
The NOVA2208 stands out with its multi-tenant provisioning feature. With its 8 Ethernet Ports, it can be flexibly configured to serve up to 8 different customers or apartments within a Multi-Dwelling Unit (MDU).
Key Specifications
IEEE 802.3av 10G-EPON compliant
ITU-T G.987.2 XG-PON compliant
ITU-T G.9807.1 XGS-PON compliant
DOCSIS DPoE 2.0 compliant
One 1/2.5G/5G/10GBASE-T Ethernet port
Eight 10/100/1000/2500BASE-T Ethernet ports
Eight FXS Voice Ports
Extensive operator control via configuration file and IEEE 802.3ah OAM
*Please note that the NOVA2208 does not come with built-in provisioning support for the 8 Ethernet Ports. To configure each LAN port for individual apartments or customers within an MDU, Internet Service Providers (ISPs) will need to utilize a dedicated provisioning tool.
Learn more about Fiber Optics, ONTs and ONUs
This Fiber optic Internet guide will give you high-level information about everything you need to know about Fiber. It should help you understand essential information about how to make your WiFi better and how fiber fits into that. In this article, we will cover:...
The NOVA2208 – Revolutionize Fiber Services for SMBs