Xfinity Users… Stop Renting. Start Saving.
Say Good-bye to equipment rental fees and save up to $180/year*. Certified to work with Comcast Xfinity with easy plug n' play setup using the Xfinity app!
Supports Gigabit Internet Plans
Works with Any WiFi Router or WiFi Mesh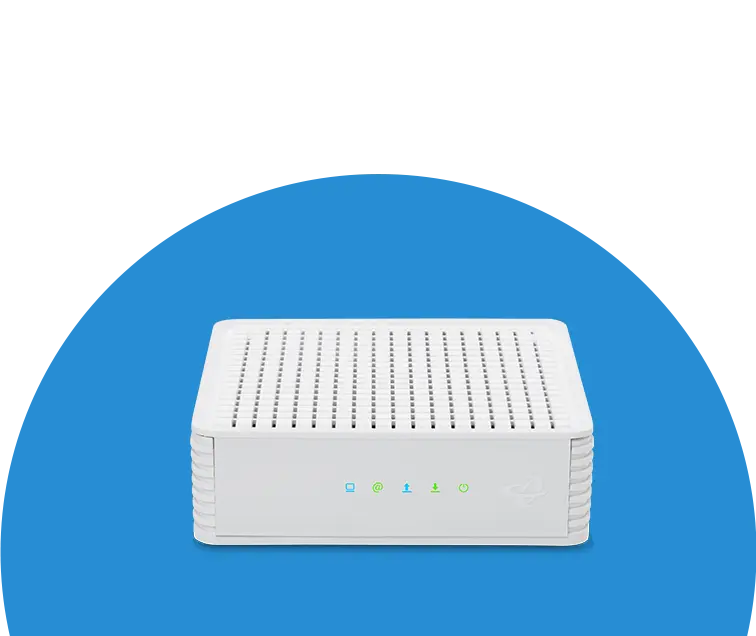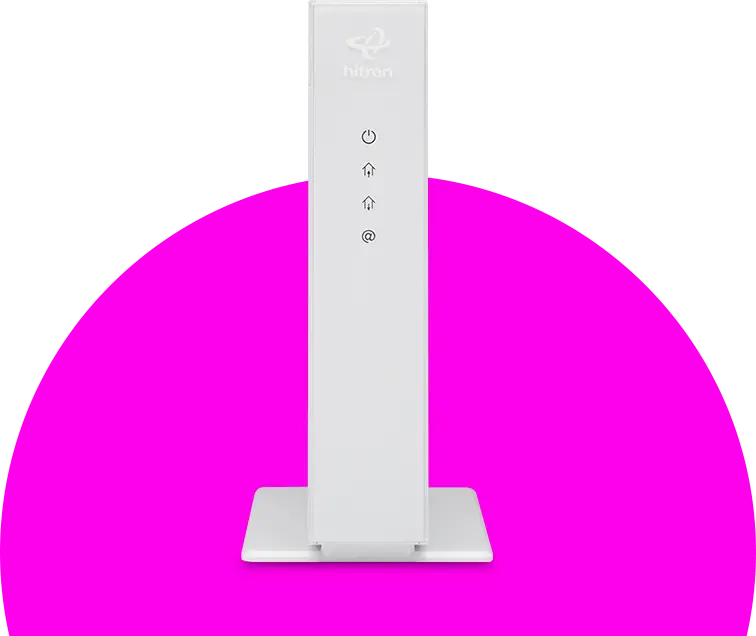 CODA
DOCSIS 3.1 Gigabit Cable Modem
With the latest in DOCSIS 3.1 technology, Hitron's CODA cable modem enables you to achieve the best Internet performance, choose Gigabit speeds, and save money, all at the same time.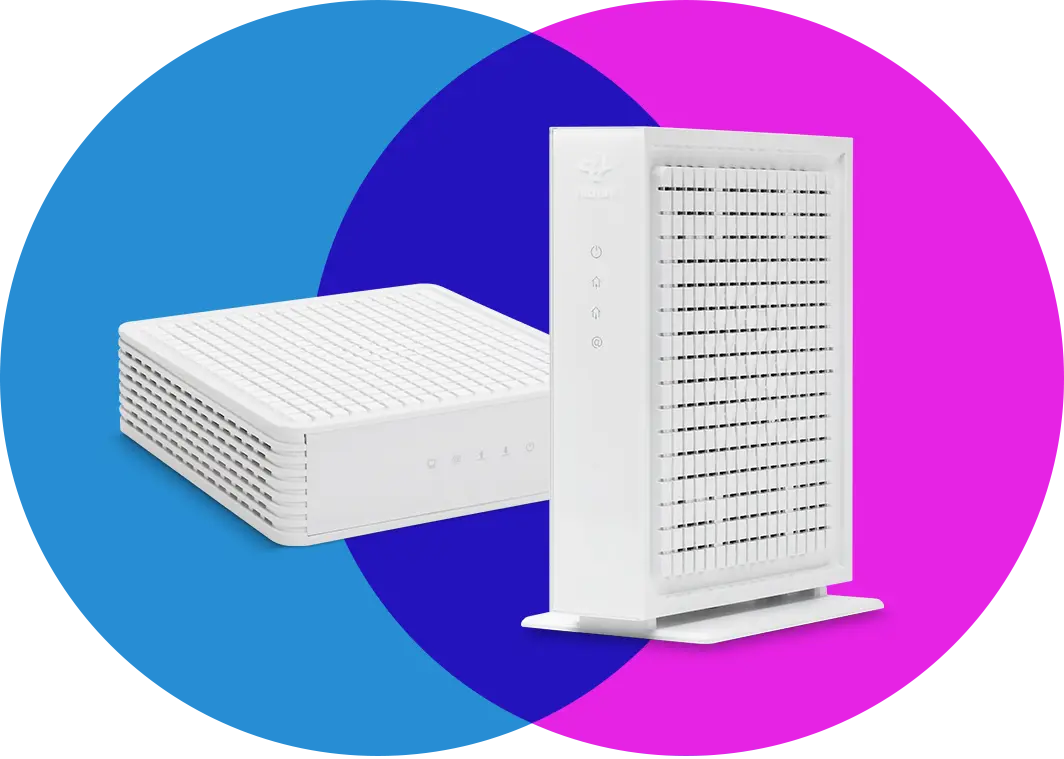 10X faster
Only DOCSIS 3.1 technology can future-proof your Internet connection speeds and increases the amount of data that can be transmitted over your Internet connection. With 10x faster speeds than older DOCSIS 3.0 modems, DOCSIS 3.1 instantly improves your Internet performance and reduces latency for faster 4K streaming, online gaming and so much more.
download upload
CODA
1 Gbps 300 Mbps
Hitron CODA cable modem supports speed plans up to 1 Gbps, giving you faster Internet performance and reliability to fuel 4K streaming, online gaming and more.
CODA56
2.5 Gbps 1 Gbps
Take full advantage of the speeds you're paying for! Hitron's CODA56 cable modem supports speed plans up to 2.5 Gbps. Achieve the ultimate high-speed performance to handle extreme online gaming, 4K streaming and faster downloads for your entire household.
What's in the box?
Experience blazing-fast Gigabit Internet speeds with the latest in DOCSIS 3.1 technology, with faster data transfer and increased bandwidth, allowing you to stream, download, and game without any lag or buffering.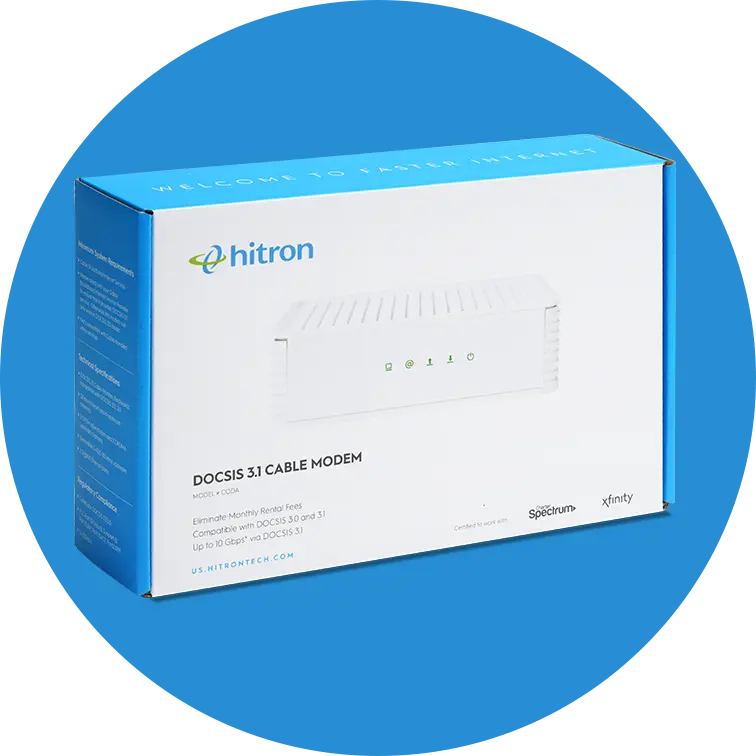 CODA
DOCSIS 3.1 Gigabit Cable Modem
(1) CODA DOCSIS 3.1 Cable Modem
(1) Power Adapter
(1) Cat 5 Ethernet Cable
1 Coax Cable
(1) Quick Install Guide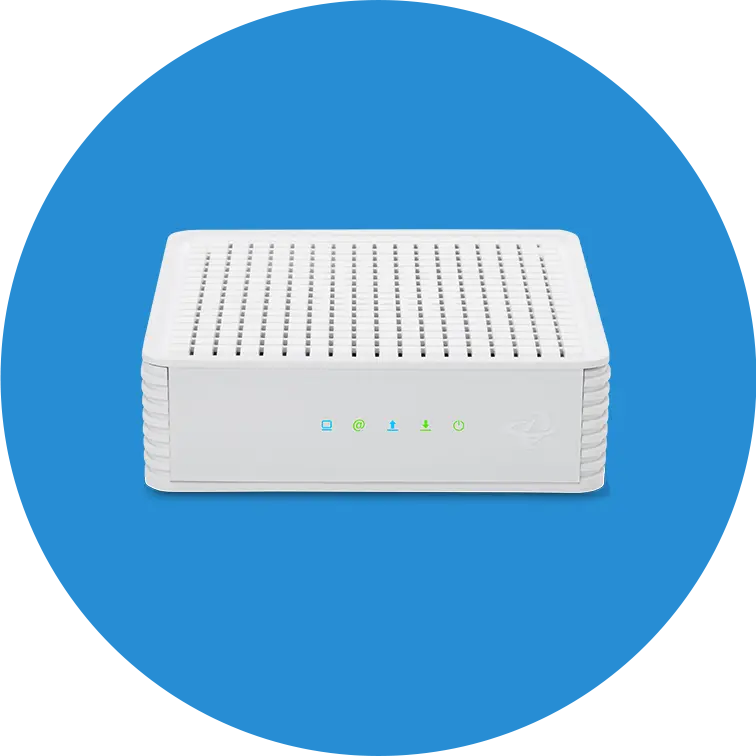 BEST VALUE
CODA
DOCSIS 3.1 Gigabit Cable Modem
Supports Internet Plans up to 1 Gbps
Two* 1-Gigabit Ethernet Ports
Includes Free Product Support

Certified & Approved by Comcast Xfinity
Both the Hitron CODA and CODA56 are certified and approved for use with the following Cable Internet Service Providers:
About Hitron Technologies Americas
For more than 30 years, we are a trusted equipment manufacturer for some of North America's largest cable Operators including Comcast, Charter Communications, Cox and Rogers.
* Hitron's CODA and CODA56 cable modems are not compatible with AT&T, Verizon, CenturyLink, DSL Providers, DISH, DirecTV and any bundled voice service.
** For the CODA cable modem only, a 2nd IP Address is required from your Cable Internet Service Provider to use both Ethernet ports simultaneously.
*Amazon and the Amazon logo are trademarks of Amazon.com, Inc. or its affiliates. As an Amazon Associate, Hitron earns from qualifying purchases. **Actual speeds will vary depending on the condition and noise found on the coaxial wiring. 1 Gbps is the maximum throughput to end devices. The maximum throughput over the MoCA network is up to 1 Gbps. Actual throughput will vary based on the condition and noise found on the coaxial cabling within the home as well as the type of Ethernet Adapter supported on each computer or other device.