The NOVA-2004 is a powerful 10G xPON ONT/ONU solution with symmetrical 10G speeds to provide high-speed Internet access for residential and business customers.
First ONU compatible with Harmonic's CableOS® FTTx solution.
Supports XGS PON and EPON in one unit.
The only ONU with 10G upstream for premium tier services.
Only sold through Service Providers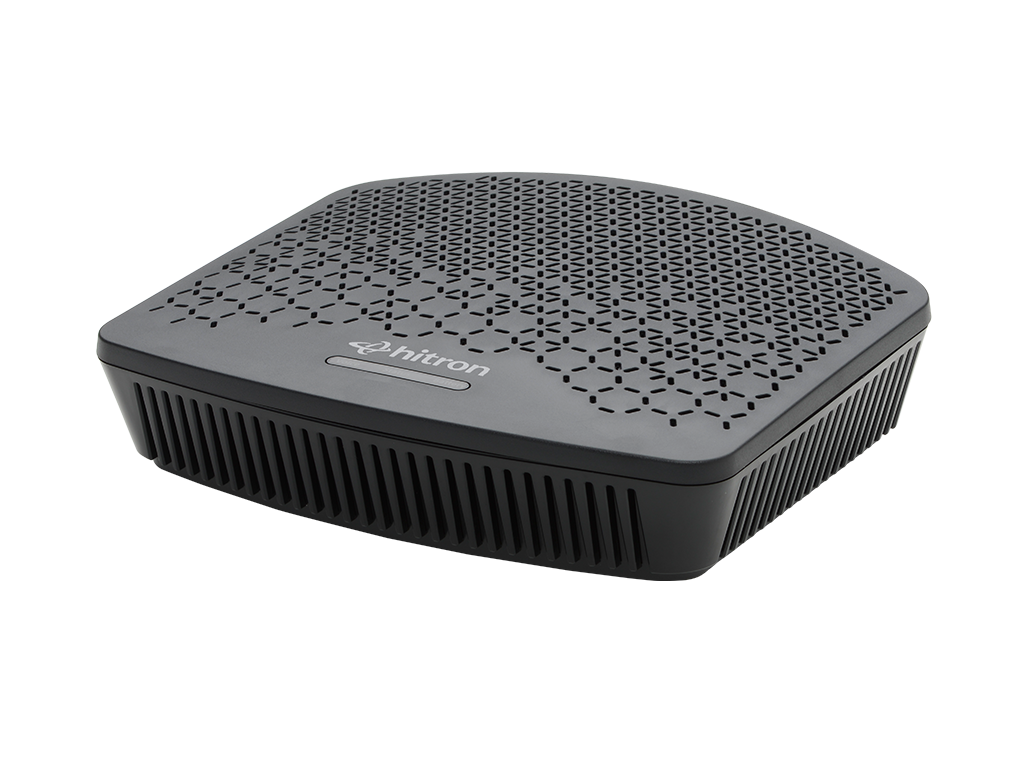 Compatible with Harmonic's CableOS FTTx Solution
Hitron's NOVA-2004 is compatible with Harmonic's CableOS Platform and supports both PON and DOCSIS with a unified software, provisioning and management system – ensuring your infrastructure is ready for 10G. Deliver next-gen broadband services over your existing HFC network. 

Powerful 10G Fiber Access and Data/Voice Services
Deliver high ARPU premium business and residential services with Hitron's NOVA-2004 10G xPON ONT/ONU. With a 10 Gigabit PON fiber interface, this powerful solution delivers speeds up to 8.5 Gbps downstream and 8.4 Gbps upstream. You can meet everyone's most bandwidth-demanding applications today and tomorrow, including telecommuting, HD and UHD video on demand, ultra high speed Internet access, voice, interactive media services and more.
Flexible Fiber Options: 10G-EPON, XG-PON, and XGS-PON
Deploy the right solution for your network needs with support for IEEE 802.3av 10G-EPON, ITU-T G.987.2 XG-PON and ITU-T G.9807.1 XGS-PON.
Optional Voice Services and Battery Backup
The NOVA-2004 is a one-box solution and can be configured with optional two FXS VoIP ports and a battery backup. You can deliver reliable voice services to residential and SOHO subscribers. The optional backup battery provides uninterruptable service for up to 19 hours during a commercial power outage (depending on model and utilization).
Keep Using your Existing DOCSIS Provisioning Systems
There's no need to overhaul your current DOCSIS provisioning, billing and management systems when you migrate to fiber. Support for DOCSIS DPoE 2.0 (DOCSIS Provisioning over EPON) means that the NOVA-2004 ONU will look like a CMTS to your existing DOCSIS systems.
10G LAN Home/Business Networking
You can make sure your subscriber's LAN network makes full use of the 10G access speeds. The NOVA-2004 supports one 100/1000/2.5G/5G/10G Ethernet port and one 10/100/1000 Ethernet port.
Easy to Deploy, Monitor and Manage
The NOVA-2004 is so easy to install, that your end users can handle it themselves. And an integrated fiber tray helps technicians do a professional install. The device's built-in DHCP automatically obtains the IP address and configuration from the network server – no user intervention required. And support for IEEE 802.3ah OAM lets you remotely manage the device.
Key Specifications
IEEE 802.3av 10G-EPON compliant
ITU-T G.987.2 XG-PON compliant
ITU-T G.9807.1 XGS-PON compliant
DOCSIS DPoE 2.0 compliant
One 100/1000/2.5G/5G/10GBASE-T Ethernet port
One 10/100/1000BASE-T Ethernet port
Optional battery back-up
Extensive operator control via configuration file and IEEE 802.3ah OAM
Other Products to Consider
Flexible Fiber Options: 10G-EPON, XG-PON, and XGS-PON The NOVA2208 sets a new standard by supporting 10G-EPON, XG-PON, and XGS-PON. This multi-PON compatibility empowers carriers to adapt to varying network infrastructures and cater to the escalating bandwidth...
Learn more about Fiber Optics, ONTs and ONUs
This Fiber optic Internet guide will give you high-level information about everything you need to know about Fiber. It should help you understand essential information about how to make your WiFi better and how fiber fits into that. In this article, we will cover:...
PON stands for passive optical network. It is a type of fiber-optic network. A PON Internet (shared fiber) system operates on an unpowered network (passive) meaning that it does not require any active components. Instead, it only uses fiber and passive components like...
Short answer, FiOS users fiber-optic cables to reach your home. A passive optical network (PON) can bridge to a devices on the customer premises within the individual terminating unit using technologies such as Ethernet or coaxial cables. In other words, the devices...
GPON vs EPON…do you know the difference and how they affect your Internet experience?  Let's explore these two technologies.  GPON (Gigabit Passive Optical Networking) and EPON (Ethernet Passive Optical Networking) are variations of PON (Passive Optical Networking)...
Optical fiber networks operate on different passive optical network (PON) standards.  A PON is a network system specific to fiber technology that delivers broadband network access to your home or business. One of many PON standards is GPON. GPON stands for Gigabit...
The NOVA-2004 – Flexible 10G access for business and residential subscribers. Learn more.