Give your customers the power of 10G! Hitron's CODA6000 boasts the latest DOCSIS 4.0 technology including high/ultra-high tri-split for an extremely flexible and optimized upstream and downstream experience like no other. You can deploy it now in 3.1 mode and then update it to DOCSIS 4.0 mode when your DOCSIS 4.0 HFC Plant is ready.
Only sold through Service Providers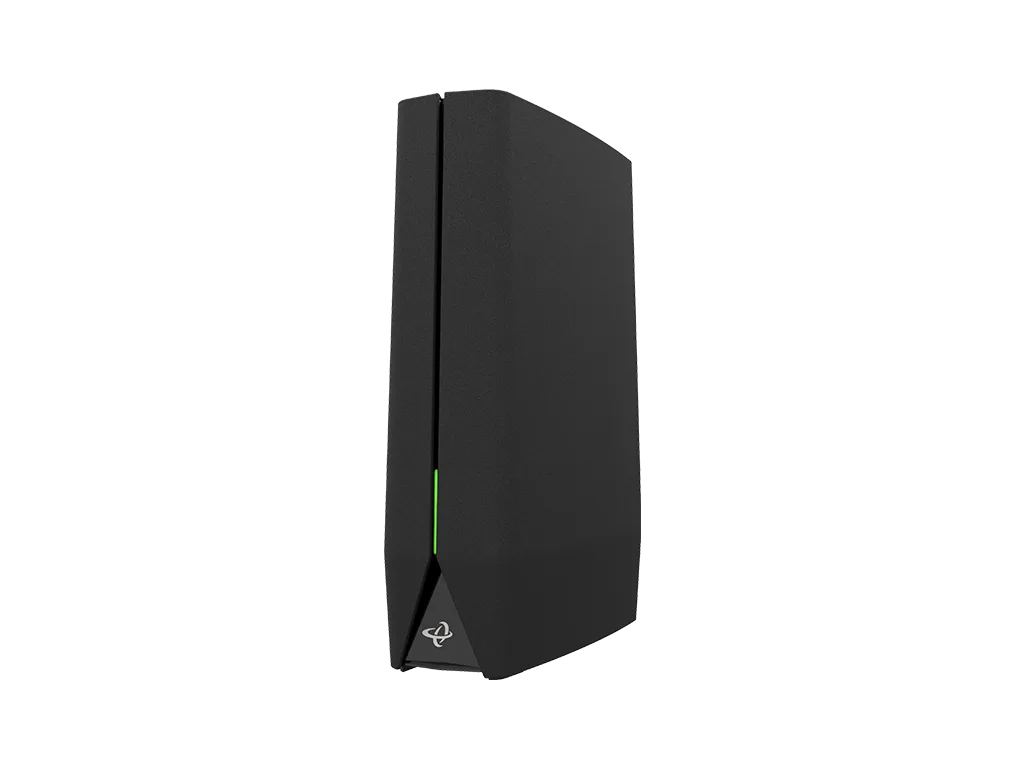 New Fanless Design
The CODA6000 modem's fanless design presents a game-changing advantage for service providers by eliminating the need for a cooling fan.  This ingenious design promotes longevity and reliability, along with decreased power consumption, and a sleeker, more space-efficient device that seamlessly blends into any environment.
High Split & Ultra-High with Tri-Split
Hitron's CODA6000 provides unparalleled flexibility with high and ultra-high tri-split capabilities to maximize data transmission efficiency to meet the growing demand for ultra-highspeed Internet.  The CODA6000 offers three Ultra-High split frequencies, delivering unprecedented speed versatility to meet future speed upgrades.
Seamless Deployment: Hitron's DOCSIS 4.0 Modems Let You Start in 3.1 Mode and Transition Effortlessly to 4.0 When Ready
Hitron's CODA6000 offers an exceptional advantage with support for three different DOCSIS frequencies. This flexibility allows ISPs to initially deploy the CODA6000 in DOCSIS 3.1 mode and smoothly transition to DOCSIS 4.0 as their infrastructure evolves. 
10 Gigabit Ethernet Port
The CODA6000's 10 Gigabit Ethernet port ensures lightning-fast connections for both wired and wireless devices, making it ideal for UHD streaming, online gaming, rapid data transfers and a lag-free experience.
Business Services over DOCSIS (BSoD)
Expand your market reach and create new revenue opportunities with Business Services over DOCSIS (BSoD) via the CODA6000 modem.  Business Services over DOCSIS enables you to offer dedicated business plans, customized service-level agreements, and scalable bandwidth options.
Advanced Remote Troubleshooting
Simplify and expedite issue resolution with the CODA6000's Advanced Remote Troubleshooting feature. Empower your team to provide top-notch support, making your services more reliable and customer-friendly to reduce downtime, enhance customer satisfaction and address connectivity problems swiftly.
Low Latency DOCSIS
Hitron's CODA6000 features Low Latency DOCSIS to minimize data transmission delay and ensures faster response times for online gaming, video conferencing, and VoIP services. Gain a competitive edge by offering the ultimate low-latency experience to your subscribers.
Real-time Data Insights
Hitron's CODA6000 built-in Telemetry Assist Agent provides proactive real-time insights, comprehensive visibility into network health and usage patterns, ensuring uninterrupted service for your customers. Make informed data-driven decisions to optimize your network performance and deliver a superior broadband experience to your subscribers.
Easy Self Installation & Remote Management
The CODA6000 modem offers end user simplicity and self-installation with its user-friendly design and guided setup process.  Self-Installation provides your customer with a faster onboarding experience while you avoid technician visits on basic installations so you can allocate your resources more efficiently.
Key Specifications
DOCSIS 4.0 certified
High Split Upstream: 5-204MHz / Downstream: 258-1794MHz
Ultra-High Split Upstream: 5-396MHz / Downstream: 492-1794MHz
Ultra-High Split Upstream: 5-492MHz / Downstream: 606-1794MHz
Ultra-High Split Upstream: 5-684MHz / Downstream: 834-1794MHz
1x 10G Base-T Ethernet port
5mm EBBU Jack
Supports Business Services over DOCSIS
Supports TR-069, TR-143 & TR-369
Other Products to Consider
*DOCSIS 4.0 is a CableLabs standard for high speed Internet access that defines support for up to 10 Gbps downstream and 8 Gbps upstream. Actual cable operator network speeds will vary and will be less than the calculated maximum possible speeds. Actual upload and download speeds are affected by several factors including, but not limited to: the capacity of your cable operator's network, the services offered by your cable operator, cable and Internet network traffic, your computer equipment etc. Final speeds will also be limited by each device and the quality of its connection to the modem or router.
Modem not working?
Easily troubleshoot your Internet connection using this simple coax testing tool.
Instantly test your coax wiring and outlets for the presence of valid Internet signals from your Cable Internet provider.
Let us tell you more about the CODA6000 DOCSIS 4.0 Cable Modem.