Tri-band Mesh Wi-Fi 6 Router/Extender
Give your customers the ultimate in wireless home networking. No more dead zones. No buffering. More than enough capacity to support everyone's devices. And the ability to reach every corner of the home and yard with a strong and reliable signal. The ARIA3411 Tri-Band Mesh Wi-Fi 6 Router/Extender brings the future of Wi-Fi technology into today's homes. It supports the Wi-Fi 6 standard and uses the new 6 GHz band in Wi-Fi 6E for the fastest data rates and lowest latency available. Simply connect the router to a cable modem or ONU and the ARIA3411 can setup and manage Wi-Fi throughout the home with MyHitron+ or any TR-369 enable WiFi Management Platform.
Only sold through Service Providers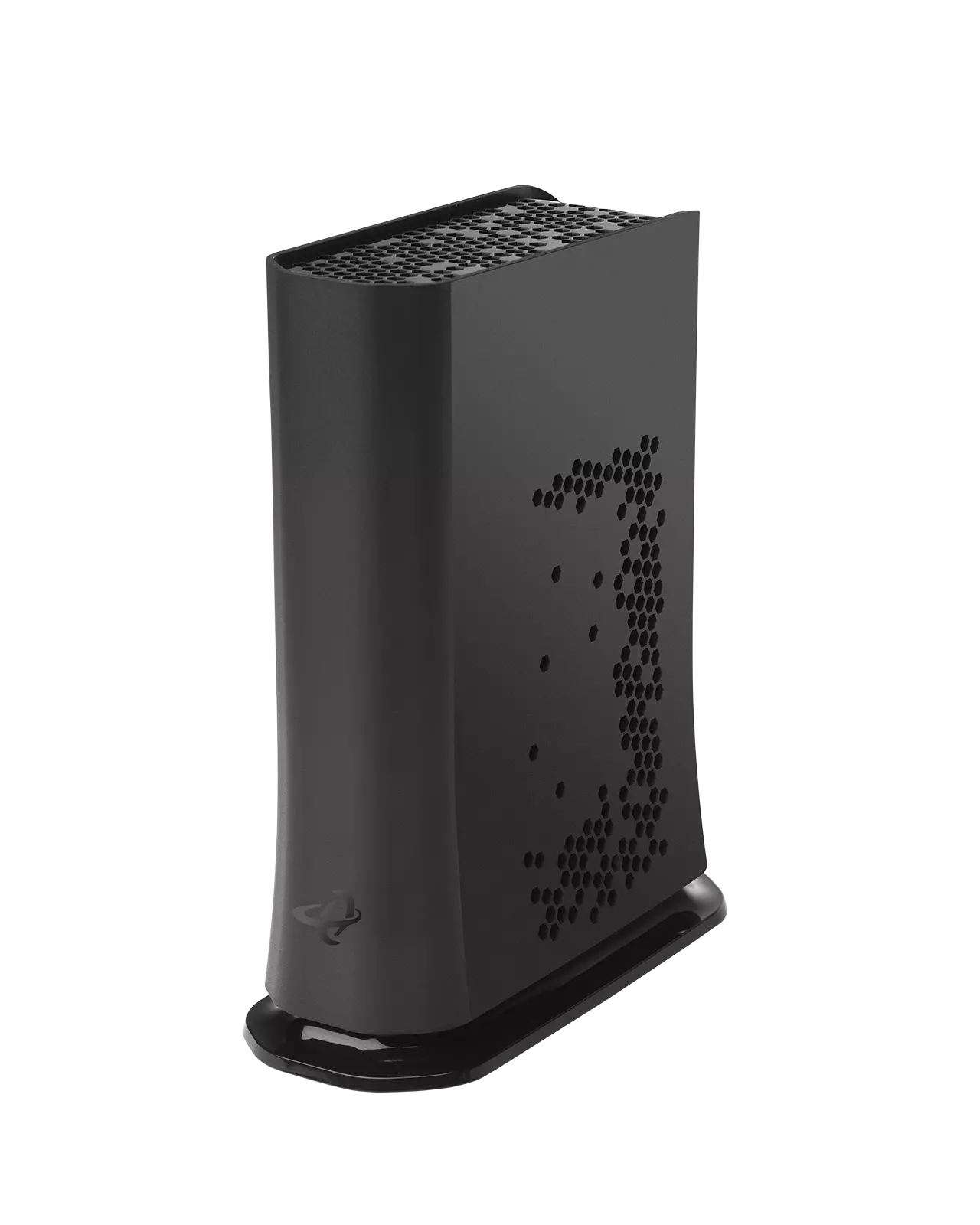 The ultimate Wi-Fi speeds with tri-band technology
The ARIA3411 utilizes the new 6 GHz band in the Wi-Fi 6E standard for Wi-Fi backhaul. With seven continuous 160 MHz channels, the router can support multiple clear channels free from neighborhood Wi-Fi interference. And using 6 GHz for the backhaul lets the mesh network keep high data rates on the 5GHz and 2.4 GHz bands for all your customer's IoT and mobile devices.
Wi-Fi 6 Mesh technology
Your customers will enjoy maximum speeds throughout every square inch of their home, plus seamless coverage even as users move throughout the house. Wi-Fi 6 delivers up to 4x more device capacity to eliminate any congestion and future-proof the home network to handle more and more devices.
Ultra-fast wired connections
The ARIA3411 is equipped with a 2.5 Gbps Ethernet port, perfect for service plans over 1 Gbps. And two Gigabit Ethernet ports can provide fast wired connections to an HDTV, home office router and more.
Compatible with Plume HomePass and MyHitron apps
The ARIA3411 is compatible with both Plume HomePass Wi-Fi Mesh service and MyHitron apps, enabling subscribers to easily set up and manage their Wi-Fi network. Just connect the ARIA3411 to an Ethernet port on the cable modem or ONU and it automatically establishes a link and synchronizes all Wi-Fi parameters. And Wi-Fi security is pre-configured and pre-enabled for rapid setup.
Key Specs
Simultaneous Tri-band WiFi 6E: 4×4 6GHz 802.11ax; 2×2 5GHz 802.11ax; 2×2 2.4GHz 802.11ax
Tri-band Wi-Fi speeds up to 4.8 Gbps + 1.2 Gbps + 574 Mbps
MU-MIMO capable for simultaneous data streaming
Implicit & Explicit Beamforming for 2.4GHz, 5GHz and 6GHz
One 2.5 GigE and two 1 GigE Ports
OpenSync 2.0 Compliant
Supports MyHitron, HitronCloud and OptiMy
*Actual speeds will vary depending on the condition and noise found on the coaxial wiring. 1 Gbps is the maximum throughput to end devices. The maximum throughput over the MoCA network is up to 700 Mbps. Theoretical data throughput numbers are based on maximum, theoretical PHY throughput for MoCA 2. Actual throughput will vary based on the condition and noise found on the coaxial cabling within the home as well as the type of Ethernet Adapter supported on each computer or other device.
ARIA3411 Tri-band Mesh Wi-Fi 6 Router/Extender - the ultimate Wi-Fi experience. Learn more.
A Complete Portfolio of WiFi Boosters