Coaxial Cable Signal Pressure Meter
The CSN-01 is an RF signal pressure testing device used to detect and isolate all signal leaks in the customer premise allowing your technicians to identify leakage issues and to seal the shielding integrity of that home or MDU to its highest quality. The CSN-01 works in conjunction with the Hitron CGN-DP3 wireless DOCSIS 3.1 meter to communicate its testing results with Hitron's ProMeter app. Frequency, power levels, parameters and settings are adjustable via the ProMeter app via WiFi connection.
Only sold through Service Providers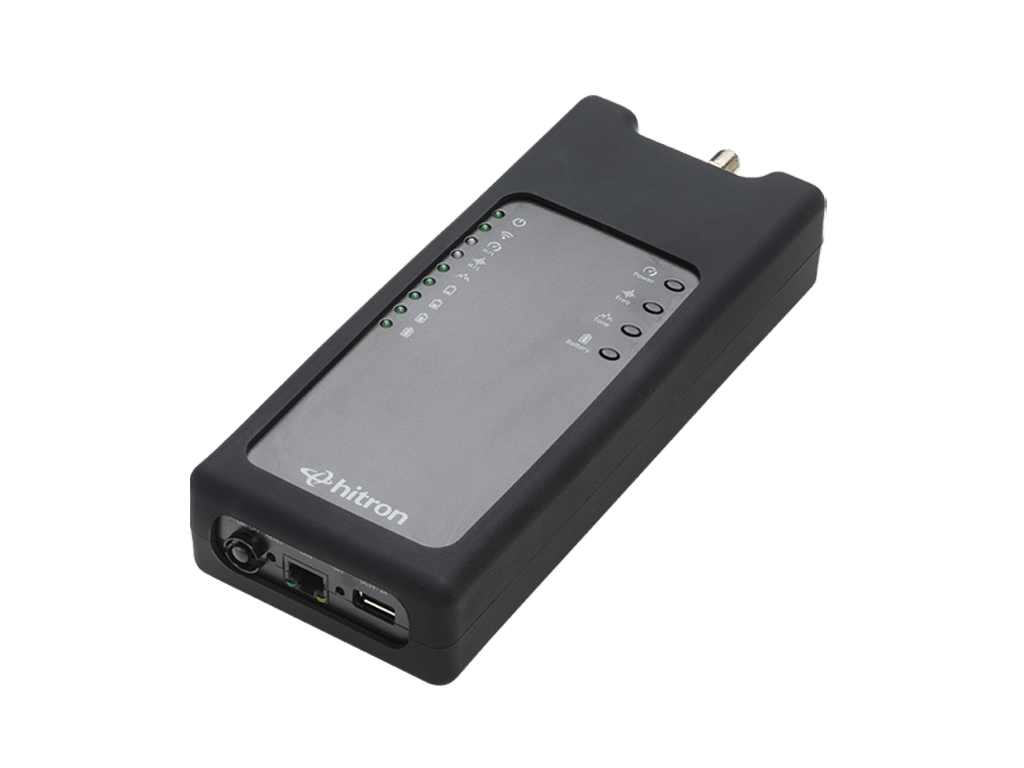 Resolve Signal Leakage
Hitron's CSN-01 is a signal meter that induces signal to the home cabling to detect and isolate signals emanating from the Cable Plant. The CSN-01 is able to pin-point signal leaks with great precision, detecting down to the nail or outlet that is causing issues, which, the technician can then seal the leak and maintain the integrity of the cable plant before leaving the customer premise.
Detailed Diagnostics Supported by ProMeter Companion App
All diagnostic readings resulting from the CSN-01 signal meter and the CGN-DP3 DOCSIS 3.1 meter are displayed on your technician's existing smartphone or tablet (iOS/Android) via Hitron's handy mobile app, ProMeter. ProMeter provides powerful detailed diagnostic insights such as WiFi connection status, upstream/downstream, spectrum, channel scan, MER, Flux, QAM analysis, OFDM, Ingress, Ping, Noise, and Traceroute.
Eliminate Unnecessary Truck Rolls
With the combination of the CGN-DP3 DOCSIS 3.1 meter, CSN-01 pressure signal meter and ProMeter app from Hitron, service operators can eliminate unnecessary truck rolls and reduce time spent troubleshooting by obtaining diagnostic details quickly, and easily to resolve issues while still at the customer premise. No more secondary visits by Supertechs or additional trouble tickets for uncertified homes.
Speed Test and Advanced Diagnostics
The CGN-DP3 features a speed test measuring speeds at the customer's premise as well as the outside network. ProMeter can be combined with Hitron Cloud to provide Speed Test and customizable DOCSIS logging functions for more efficient quality and integrity testing of the plant, both inside and outside of the customer premise.
Key Specifications
Output frequency range:24MHz-1.7GHz
Stepping: 1MHz•Power: USB2.0 (+5V/2A)
Interface: USB2.0, F-type male connector
ProMeter App for Smartphone/tablet usage (iOS/Android)
Manual mode for simple setting
Wi-Fi 11b/g/n with internal antennas

2T2R 2.4GHz with 150Mbps PHY
Frequency range : 2412~2462MHz

Includes a 5V battery
Output power: 40dBmv,60dBmv(configurable)Tolerance: +/-3dBmv
Simple buttons setting for Hi/Lo frequency/power
LEDs indicator for Signal output
Empower your technicians with the CSN-01 Hand-held Signal Pressure Test Meter!