Wireless DOCSIS 3.1 Test Meter
When you dispatch a technician, you need them to fix the issue right the first time. The CGNDP3M gives them all the diagnostic tools needed to accurately pinpoint and resolve issues at the customer premise, outside plant, and headend. This weather-resistant, portable meter works with Hitron's ProMeter app on your technician's mobile device and is compatible with low, mid, and high-split upstream architectures. Streamline your operations and deliver a better customer experience by empowering your technicians to resolve issues on the spot and avoid multiple service calls.
Only sold through Service Providers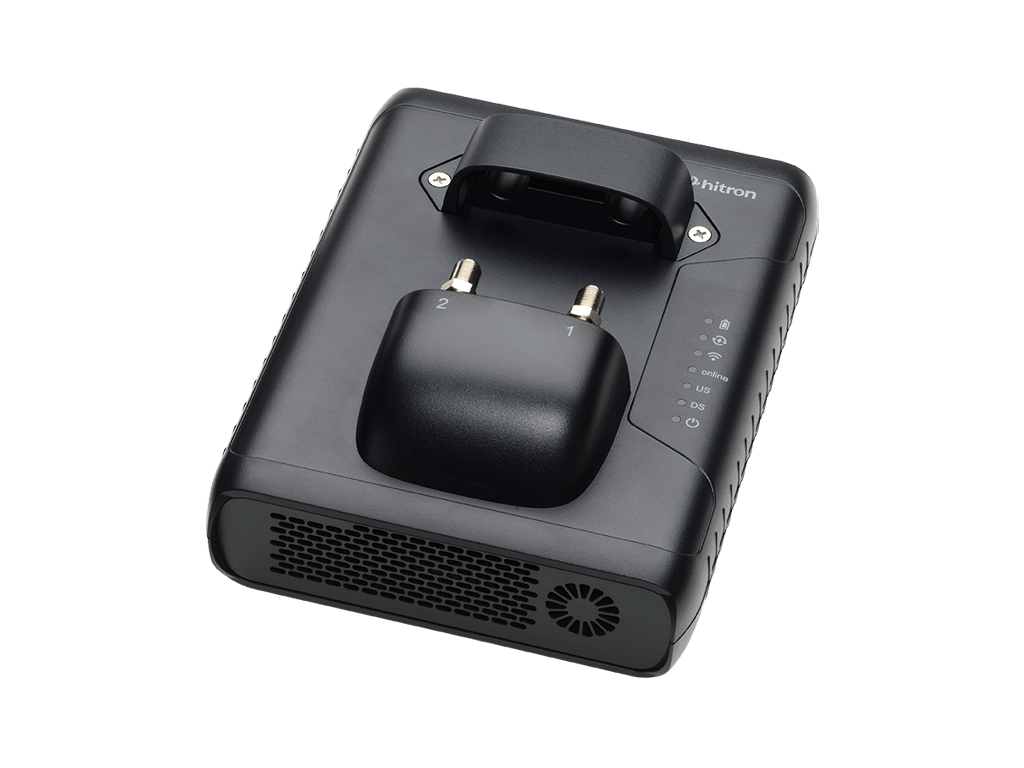 DIAGNOSTICS DELIVERED TO YOUR TECHNICIAN'S MOBILE DEVICE
The CGNDP3M is controlled by Hitron's ProMeter mobile app, which is compatible with iOS and Android devices. That means your technicians can run tests and view the diagnostic readings right on their existing smartphone or tablet. This approach minimizes device cost and technician learning curves!
COMPREHENSIVE DIAGNOSTICS
The meter gives technicians powerful and detailed insights including: upstream/downstream, spectrum, channel scan, MER, Flux, QAM analysis, OFDM, OFDMA, Ingress, Noise, Ping, and Traceroute. In addition, Hitron's exclusive SnapShot takes a snapshot of the network at a particular time and a SpeedTest measures speeds over 2 Gbps.
TROUBLESHOOT BROADBAND ISSUES
Today's technicians need to solve issues that are both inside and outside the customer home. The CGNDP3M can determine whether a performance bottleneck is in the broadband plant or inside the home. Technicians can measure true broadband throughput from the residential gateway.
3-SPLIT SWITCHABLE UPSTREAM
The CGNDP3M works with any DOCSIS 3.1/3.0/2.0/1.1 architecture. It's able to scan low split (5-42 MHz), mid split (5-85 MHz), and high split (5-204 MHz) upstream.
COST-EFFICIENT PRICE POINT TO KIT YOUR ENTIRE WORKFORCE
Developed to the highest industry standards, our tools reduce repeat failures and significantly reduce troubleshooting time at a fraction of the cost of other solutions. Take those savings to outfit your entire workforce with diagnostic testing tools and to further accelerate your operational cost savings!

Key Specifications
Switchable Upstream (5-42, 5-85, 5-204)
DOCSIS 3.1/3.0/2.0 Compliant
DOCSIS WAN
DOCSIS Logger
DOCSIS Registration Status
AC Detection and Rejection
Full Frequency Spectrum Support up to 1.2 GHz
IQ Constellation
Pre-equalizer Analysis
Speed Test

via Coax
via Ethernet to CPE

QAM Measurements
Optional Cloud Data Collection & Reporting
One 2.5 Gigabit Ethernet Port
Battery Supports up to 8 Hours of Operation
The CGNDP3M DOCSIS 3.1 meter comes complete with:
The CGNDP3M meter
Zip shell case (with Velcro tablet case, removable pouch, shoulder strap and carabineer)
12VDC 5A power supply and its power cord
(2) F81 coax barrels

The battery (installed)
* Tablet not included. Tablet should be provided by the Service Provider.
Empower your technicians with the CGNDP3M and ProMeter app!