Outdoor DOCSIS 3.1 Modem for Small Cell Backhaul
Ready to offer cellular service with mobile backhaul over DOCSIS? So is the ODIN1112. It's the world's first DOCSIS 3.1 modem to support DOCSIS Time Protocol (DTP), providing precise network timing to make mobile backhaul over DOCSIS a reality. Pair the ODIN1112 with a small cell gateway and leverage your existing real estate of DOCSIS networks to roll out lucrative wireless services at a significantly reduced cost.
Only sold through Service Providers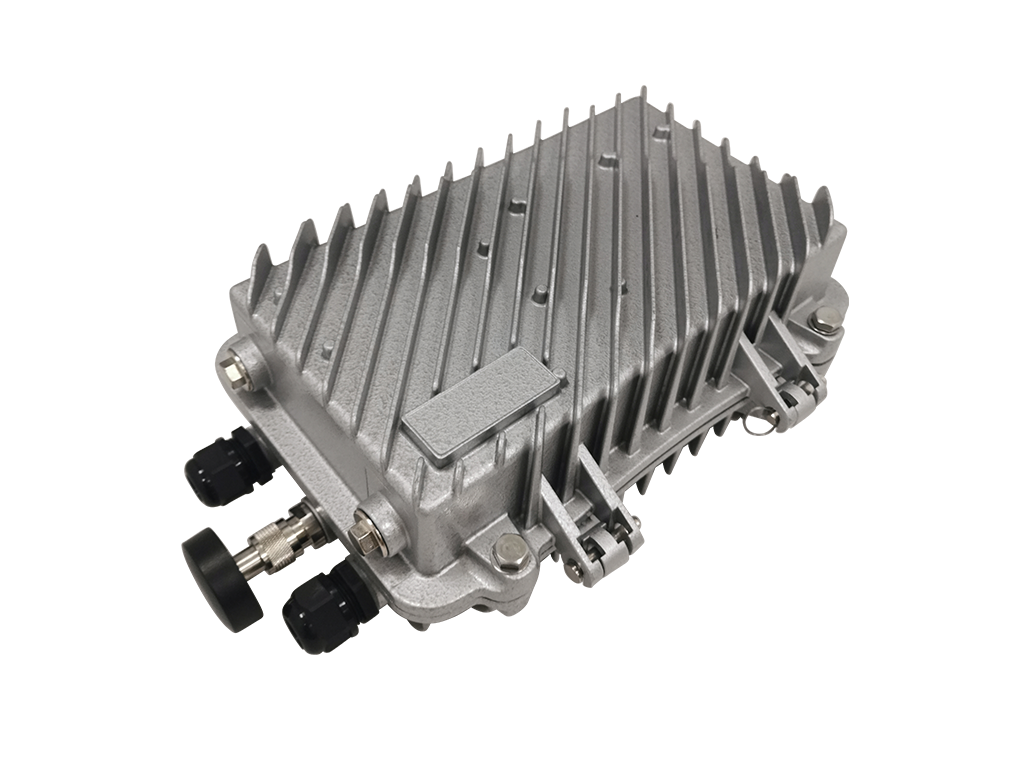 FIRST MODEM TO SUPPORT DOCSIS TIME PROTOCOL
When it comes to mobile backhaul over DOCSIS, Hitron leads the way. The ODIN1112 is the industry's first DOCSIS modem to support the DOCSIS Time Protocol (DTP). The challenge with using DOCSIS as a backhaul is how to provide the precision synchronization and timing needed for 5G and LTE, without putting an expensive GPS receiver in each microcell. DOCSIS Time Protocol (DTP) solves this challenge by enabling the passing of networking timing over DOCSIS 3.1 networks to provide precise frequency to devices connected to a DOCSIS modem.
SPEEDS UP TO 2.5 Gbps
As a DOCSIS 3.1 modem, the ODIN1112 provides the bandwidth needed for small cell deployments. This high-performance modem delivers speeds up to 2.5 Gbps with two bonded downstream channels over its DOCSIS interface. And a software switchable return path lets you seamlessly switch between a 5-42 and 5-85 MHz.
RUGGEDIZED OUTDOOR HARDENED
The ODIN1112 is a fully temperature hardened cable modem and environmentally sealed to work in the harshest outdoor environments.
POWER OVER ETHERNET (PoE)
Up to 180 Watts is available to power external devices over PoE, such as small cell gateways or surveillance cameras, simplifying your deployments.
EASY TO SETUP AND MANAGE
Installation is quick and easy. It is inline power feeding. Just find a tap on the cable run; connect, and the built-in provisioning mechanism automatically gets the IP address and configuration data from the network server without human intervention. The ODIN1112 uses standard SNMP management protocols and can be quickly and easily integrated with your existing network management system to provide remote control over the device deployed.
Key Specs
DTP (DOCSIS Time Protocol) for small cell deployments and wireless backhaul over DOCSIS
DOCSIS 1.1/2.0/3.0/3.1 and EuroDOCSIS compliant
DOCSIS 3.1 2×2 OFDM
DOCSIS 3.0 32×8 channel bonding
Switchable 5-42/5-85 MHz
Supports 1588v2 and SyncE
High bandwidth, environmental hardened cable modem
PoE provides power, along with data, over CAT-6 cabling to connected devices
Extensive operator control via configuration file and SNMP
Full Dual Stack IPv4/IPv6 Support
*DOCSIS 3.1 is a CableLabs standard for high-speed Internet access that defines support for up to 10 Gbps downstream and 1 Gbps upstream. Actual cable operator network speeds will vary and will be less than the calculated maximum possible speeds. Actual upload and download speeds are affected by several factors including, but not limited to: the capacity of your cable operator's network, the services offered by your cable operator, cable and Internet network traffic, your computer equipment etc.
Access new revenue opportunities with mobile backhaul over DOCSIS. The ODIN1112 makes it possible.