Setting up a MoCA network in your home is a great alternative to running Ethernet. If your current Ethernet network is limited to certain rooms in your home, then you're a great candidate for a MoCA network.  If you are new to MoCA technology, read our complete guide on MoCA.  MoCA stands for Multimedia over Coaxial Alliance – they set the technology standard for this solution. MoCA technology is a wired solution that allows you to transmit Ethernet data over coax TV wiring, which can also act as a WiFi Booster on your network.
What are the Benefits of Using MoCA?
Uses existing coax cables in your home (no drilling holes, no hassles)
Performs just like Ethernet
Capable of delivering network speeds up to 1 Gbps
Easier to set up than running Ethernet wiring
Lower latency and reduced lag to every corner of your home
Less interference risk than WiFi or powerline networking
No expensive or messy setup
Secure technology
What Can You Use MoCA Adapters For?
Backhaul, or wired backbone, for mesh WiFi system
Extend wireless coverage to get Internet access into hard-to-reach places in your home.
Extend your Ethernet cables without running wires!
A wired WiFi booster setup that helps avoid WiFi interference from neighbors.
Reduce latency or lag for online gaming on consoles and streaming devices.
Use Cases for a MoCA Network
MoCA adapters let you harness the bandwidth capabilities of your Coax TV wiring for Ethernet communication.  You can connect up to 16 MoCA devices or nodes on a MoCA network.
Scenario:
You need to Internet access upstairs to connect multiple computers, gaming consoles, streaming devices but your cable modem is downstairs.
Your cable modem downstairs can share its coax outlet with a MoCA adapter by using a Coax splitter. Plug in both your cable modem and your MoCA adapter into the Coax splitter.
Upstairs, you get Internet to each computer, gaming console or streaming device by plugging in a second MoCA adapter into a coax outlet and connecting the Ethernet device.
Setting up a Coax (MoCA) Network
MoCA is a wired networking solution that allows high speed Ethernet to bridge over the existing coax cable (cable TV) network in a home.  A MoCA network is also called a "Coax to Ethernet" or "Ethernet over Coax" network, so you may also see these terms used.
Setting up a MoCA network is easy to do. It's literally Plug n Play.
Devices and supplies that you need to set up your MoCA network:
MoCA adapters – one for each room you need to install more coverage
Coax cable
Ethernet cable
Power supply
Coax cable tester – recommended to testing coax outlet signal activity.
How to Set Up MoCA Adapters
To start, you will need at least 2 MoCA adapters to set up the network. Once you have your adapters and other supplies, set up is easy and takes minutes.
Step 1:
Before setting anything up, test your coax outlets for an active Broadband signal. This takes seconds with a coax cable testing device and will help your installation to be successful. Once you've confirmed where your active coax outlets are, you're ready to set up.
Step 2:
Take one of the MoCA adapters and one Ethernet cable. Plug in one end of a MoCA adapter into a coax outlet and connect the other end to your router using the Ethernet cable.
Step 3:
Take the second adapter and connect it to any other coax outlet in your home. It should establish a MoCA network link automatically with the router.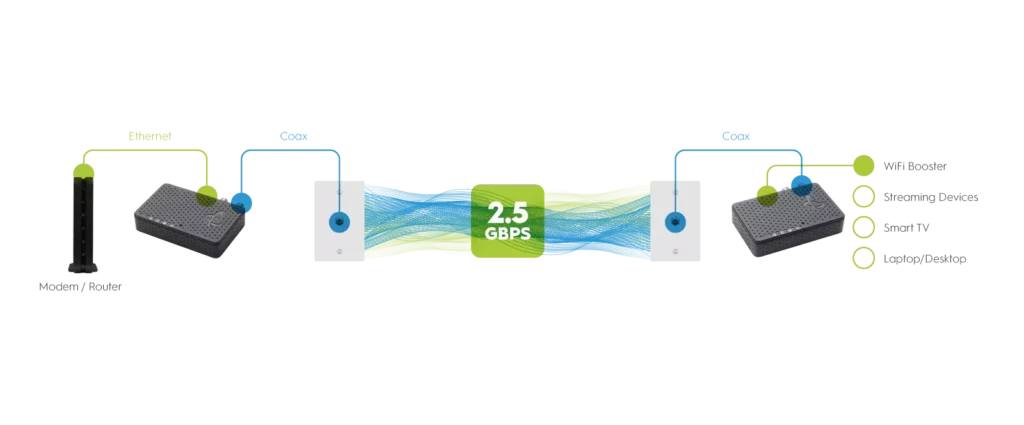 With MoCA adapters, you can enjoy wireless Internet and also get a wired network experience with reliable, solid Internet connection.
BOTH Ethernet and MoCA for the Win
By using MoCA technology and MoCA adapters, you can extend your Ethernet network  plus harness the bandwidth capabilities of your existing coax wiring in your home!  In addition, you can use this extremely fast and reliable network to increase the speeds being delivered to your router/Access Point and WiFi devices for even faster WiFi!
MoCA technology is designed to provide you with greater backhaul, no additional wires, simple setup, always fast and reliable network solution. MoCA lowers latency (no lag) and improves your connection speeds throughout your entire home.
Are you looking to extend your Ethernet network without the hassle of running wires? MoCA technology is the way to go. Get your HTEM4 MoCA adapters today on Amazon, to instantly transform your coax wiring.
Do you want to learn more about how MoCA technology? Check out Hitron's Learn page for more articles and resources.